Hello there!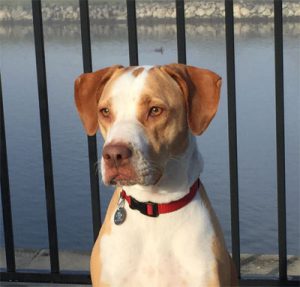 Welcome to Dawgs on the Go!
My name is Ellie. I'm a 5-year-old American foxhound and I'm going to be your host on this website. I'll be posting new stuff every so often so be sure to check back regularly, or, if you want, you can subscribe to my updates and you will get notified each time I add new material.
Your choice!
We have an exciting product line-up planned. We are going to start out with the Dawggie GoPak, our signature product. it actually is a really nifty accessory for when you walk your dog.
The Dawggie GoPak is lightweight and will fit a lot more stuff that you can even believe is possible. It has 4 pockets, 3 in the front and 1 in the back. You can stash your phone, your keys, earbuds and more. You can attach an LED microlight for those after dark walks. It comes in black, red, pink and purple and we are going to be adding additional colors in the near future.
Every Dawggie GoPak comes standard with a braided steel locking wire loop so you can securely attach the Dawggie GoPak to your dog's leash. We also offer a series of upgraded leash attachments.
We are also starting out with pet visibility items such as LED collar lights, lighted LED collars, lighted LED collar covers and personal visibility items such as LED marker lights, LED flashlights, LED slap wraps and more.Over the course of the next few months, we will be introducing leashes, collars & harnesses that will match the design of our GoPaks. We have also got a lot of people interested in bling. So we are also going to do blinged GoPaks, blinged leashes, and blinged collars. Being a girl, I have my thoughts about bling but I will keep them to myself!
Stay tuned for new products.
Once again, welcome to Dawgs on the Go!
Woof Woof!
Ellie.